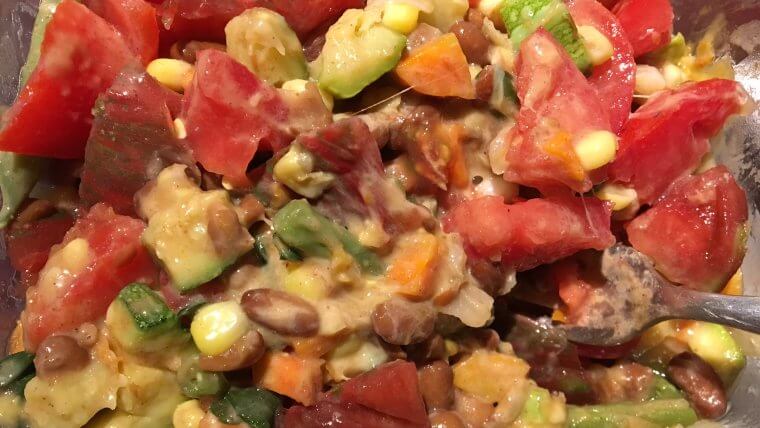 Ingredients
1 medium onion
3-4 carrots
2-3 summer squash or zucchini
1/2 lb green beans
1 head of cauliflower (optional)
3-4 ears sweet corn
5 sticks of celery with leaves
2 cups of dry beans (pinto, black, or heirloom)
1 lb ground pork or chopped sausage (optional)
Scallions
Cheddar cheese, shredded
Tomatoes, chopped
Olive oil, plenty
Salt, plenty
Directions
This is a meal made mostly of fresh vegetables from the garden, yet it is satisfyingly rich and filling. We eat it several times a week during the summer. You can pre-cook beans and sausage ahead of time—if you make batches of these, you can use them from the fridge for several succotash meals. This is an efficient meal to make because there is no prep required ahead of time—you can heat the pan and then start chopping vegetables, adding them in the order in which they cook. The time it takes to chop the next set of vegetables spaces them apart so the vegetables cook perfectly. The keys to this are: (1) don't cook anything longer than necessary—you don't need to rush but don't get distracted, and (2) don't be afraid of oil and salt. We probably use an ⅛ cup of olive oil by the end.
Heat a dutch oven, large ceramic pot, or large skillet on medium heat.
Add plenty of olive oil.
Chop carrots and onion into small pieces, add to skillet once warm.
Add more oil and plenty of salt.
Chop green beans into thirds, summer squash into ⅜" – ½" pieces, cauliflower (optional), and add to skillet.
Add more oil and salt if necessary.
Add cooked beans and pork. (optional)
Cut sweet corn off the cob and chop the celery leaves and upper stalks (eat the fatter part of the stalks), add to skillet.
Add more oil and salt if necessary.
Turn off and let it all glaze for a minute.
Shred cheese and chop tomatoes and scallions.
Serve, adding shredded cheese, chopped tomatoes, and scallions to taste.