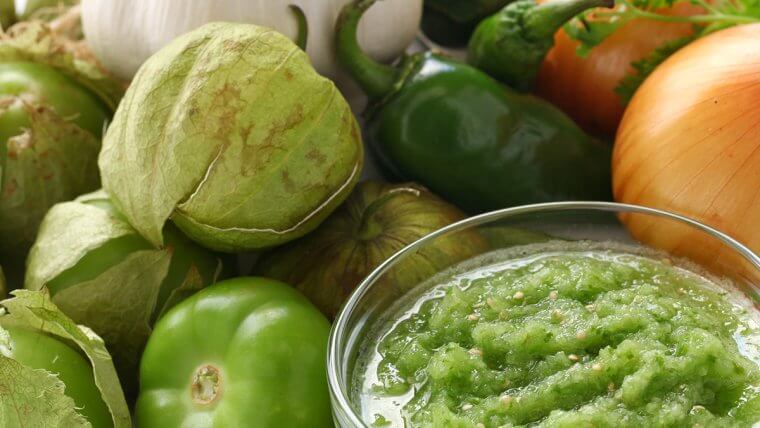 Ingredients
1 lb of tomatillos (husked, rinsed, halved)
1 medium onion, sliced in ¼ inch thick rounds
3 garlic cloves
1-2 jalapeno peppers – remove seeds if you don't like the heat!
1½ tbsp canola oil
2 cups chicken or vegetable broth
½ cup cream
Directions
1. Roast tomatillos, onion, garlic, and peppers on a rimmed baking sheet 4 inches below a hot broiler until they turn black on one side. Then flip them and blacken the other side. It takes about 10 minutes or so for the first side and 5 minutes on the second side (but it'll depend on your oven/broiler so keep an eye on them).
2. Scrape veggies and liquid into a blender or food processor and puree.
3. Heat 1½ tablespoons of canola oil in a 3-5 quart stock pot over medium-high heat. When one drop of puree sizzles on the oil, add all the puree. Stir until it darkens and seems a little thicker (1-2 minutes). Add 2 cups of chicken (or vegetable) broth and ½ cup of cream (sour cream or greek yogurt would also work). Simmer sauce for 30 minutes. If you need to thin it out, add more broth or water.