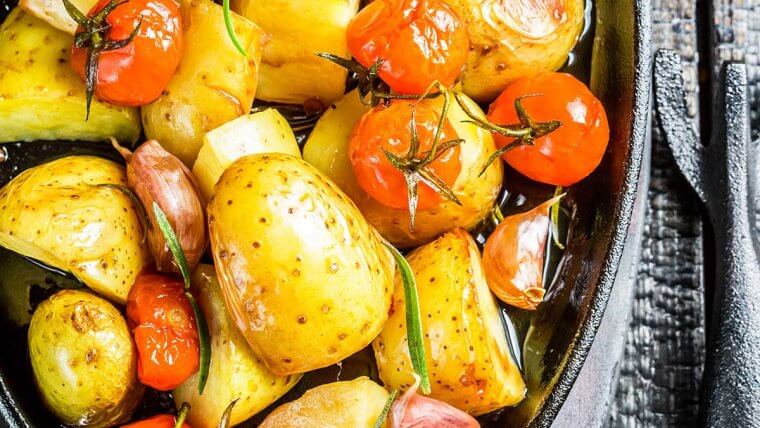 Ingredients
6 cups cubed potatoes
3 tablespoons plus 1/4 cup canola or other vegetable oil
3 garlic cloves, minced or pressed
1 teaspoon salt
2 fresh green chiles, minced, seeds removed for a milder "hot"
2 teaspoons ground cumin
2 tablespoons fresh lime or lemon juice
1 tablespoon red wine vinegar
1 1/2 cups chopped tomatoes
2 tablespoons minced fresh cilantro, more to taste
Directions
Preparation Time: 20 minutes
Baking Time: 20-30 minutes
Serves 4
1. Preheat the oven to 400 degrees.
2. In a bowl, toss the potatoes with 3 tablespoon of the oil, half of the garlic, and all of the salt.
3. Spread them evenly on a large baking sheet-or use two, if needed, and roast until tender, 20 to 30 minutes, depending on the variety of potato and the size of the cubes.
4. Carefully stir once or twice during baking to prevent sticking.
5. Meanwhile, warm the remaining 1/4 cup of oil in a small skillet or saucepan.
6. Saute the rest of the garlic, the chiles and cumin, on medium high heat, stirring constantly, just until oil begins to foam but before the garlic browns.
7. Remove from the heat immediately. Transfer to a nonreactive bowl, add the lime or lemon juice and the vinegar, and set aside.
8. When the potatoes are tender, place them in a serving bowl and toss with the vinegar mixture. Gently stir in the tomatoes and cilantro.
9. Serve at room temperature or chill, if you prefer.