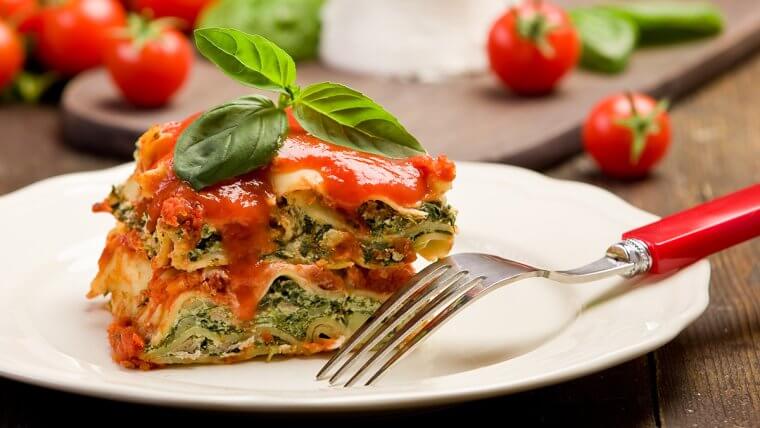 Ingredients
12 lasagna noodles
2 tablespoons olive oil
2 heads fresh broccoli, chopped
2 carrots, thinly sliced
1 large onion, chopped. You can use your bunched onions
2 green bell peppers, chopped. You can use your beet greens instead.
2 medium zucchini, sliced
3 cloves garlic, minced
1/2 cup all-purpose flour
3 cups milk
3/4 cup Parmesan cheese, divided
1/2 teaspoon salt
1/2 teaspoon pepper
1 bunch spinach washed and chopped
1 (8 ounce) container small curd cottage cheese
24 ounces ricotta cheese
2 1/2 cups shredded mozzarella cheese, divided
Directions
Preheat oven to 375 degrees F (190 degrees C). Grease a 9 x 13 inch casserole dish.
Bring a large pot of lightly salted water to a boil. Add lasagna noodles and cook for 8 to 10 minutes or until al dente; drain.
Heat oil in a large cast iron skillet over medium heat. When oil is hot add broccoli, carrots, onions, bell peppers, zucchini and garlic. Saute for 7 minutes; set aside.
Place flour in a medium saucepan and gradually whisk in milk until well blended. Bring to a boil over medium heat. Cook 5 minutes, or until thick, stirring constantly. Stir in 1/2 cup Parmesan cheese, salt and pepper; cook for 1 minute, stirring constantly. Remove from heat; stir in spinach. Reserve 1/2 cup spinach mixture. In a small bowl combine cottage and ricotta cheeses; stir well. (When I make lasagna, I buy flat noodles that do not need to be precooked and will often omit parmesan and ricotta and only use cottage cheese with 2 whisked eggs, falsh herbs and slat and pepper to taste).
Spread about 1/2 cup of spinach mixture in the bottom of the prepared pan. Layer noodles, ricotta mixture, vegetables, spinach mixture and 2 cups mozzarella cheese, ending with noodles. Top with reserved spinach mixture, 1/2 cup mozzarella cheese and 1/4 cup parmesan cheese.
Bake in preheated oven for 35 minutes, or until lightly browned on top. Cool for approximately 10 minutes before serving.
If you prefer a meat option, mix in some cooked ground turkey, beef or buffalo in the sauce.