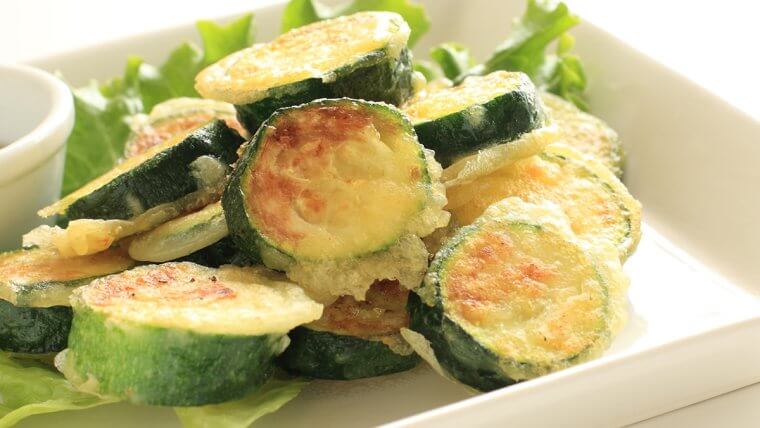 Ingredients
2 lbs zucchini, sliced in fingers – You can use any vegetable though
Dipping Sauce
¼ cup soy sauce
1 tablespoon fresh ginger root, grated
1 teaspoon sugar
1 clove garlic, minced (optional)
1 teaspoon chili sauce (optional)
Tempura
⅔ cups cold seltzer water or plain water (approximately)
½ teaspoon fine sea salt
¾ cups cake flour (or cake and pastry flour if you live in Canada)
¼ cup cornstarch
½ teaspoon baking powder
Any high heat oil for deep frying
Directions
If the zucchini is large, remove the seeds with a spoon or melon baller before slicing. Slice the zucchini into fingers, about 2 inches long and ½ inch wide. Note: thinner fingers cook faster than thick ones, so think French fries more than potato wedges.
Dipping Sauce: In a small bowl, whisk together the soy, ginger, sugar, garlic, and chili sauce (if using). Adjust seasoning to taste. Set aside.
Tempura: Mix flour, corn starch, baking powder, and salt together with a whisk to blend thoroughly. Add the oil to  the pan for frying. When the oil reaches 350°F (see note below if you don't have a candy thermometer), whisk in enough cold seltzer water or plain tap water to make the batter the consistency of heavy cream. Dip the zucchini in the tempura batter and gently add it to the oil. Fry until golden and cooked all the way through. This takes between 5 and 7 minutes, but it will vary based on the thickness of the zucchini slice and the temperature of the oil. The oil's temperature will drop when you add the battered vegetables, so allow the oil to come back up to heat between batches. As soon as the zucchini slices are golden and cooked, remove them from the oil with a slotted spoon or spider. Place on several layers of paper towel to drain. Eat while still hot. Serve with the dipping sauce.
Note: If you don't have a candy thermometer, heat the oil until it starts to move. Dip a wooden chopstick in the oil. If it bubbles,     then the oil is hot enough.