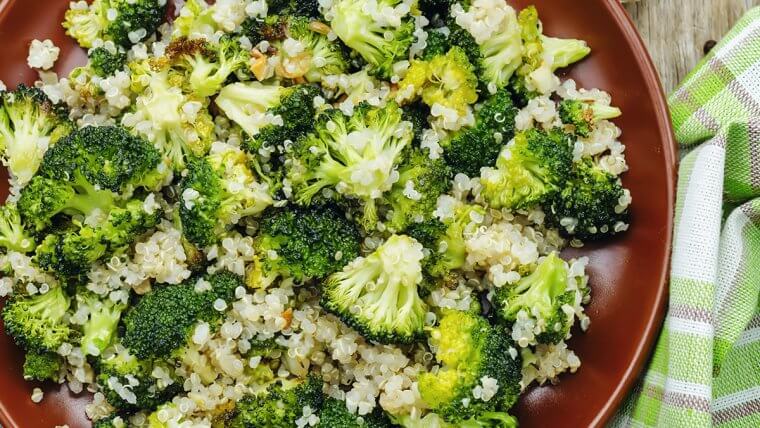 Ingredients
Slaw
1 pound broccoli (if you have any kohlrabi left, it would be great to add to this slaw)
½ cup uncooked quinoa
½ cup slivered almonds
¼ cup chopped, fresh basil
Honey Mustard Dressing
½ cup olive oil
2 tablespoons lemon juice
2 tablespoons smooth Dijon mustard
1 tablespoon apple cider vinegar or lemon juice, more to taste
1 tablespoon honey, more to taste
2 cloves garlic, pressed or minced
½ teaspoon sea salt
Freshly-ground pepper, to taste
Directions
To cook the quinoa, rinse the grain in a medium-sized pot; combine the quinoa and 1 cup water. Bring the mixture to a gentle boil, then cover the pot. Reduce the heat to a simmer and cook for 15 minutes. Remove the quinoa from the heat and let the pot rest, still covered, for 5 minutes. Uncover the pot, drain off any excess water and fluff the quinoa with a fork.
Meanwhile, toast the almonds in a small skillet over medium heat. Toast the almonds, stirring frequently until they are fragrant and starting to turn golden on the edges, about 5 minutes. Transfer to a large serving bowl to cool.
To prepare the broccoli, trim off any brown bits from the florets and stems, then slice the florets off the stems into manageable pieces. Use a paring knife to peel off the tough, woody perimeter of the broccoli stems and then discard them. Shred the broccoli florets and peeled stems with a mandolin or by hand with a sharp knife.
Prepare the dressing by combining the olive oil, lemon juice, mustard, vinegar, honey, garlic, sea salt, and freshly-ground pepper. Whisk until emulsified. The dressing should be pleasantly tangy, but not overwhelmingly acidic, so taste and add a little more honey to balance out the flavors, if necessary.
In a large serving bowl, combine the broccoli slaw, cooked quinoa, and toasted almonds. Pour the dressing over the mixture, top with the chopped basil, and toss until well mixed. Let the slaw rest for about 20 minutes to let the flavors mellow out a bit.