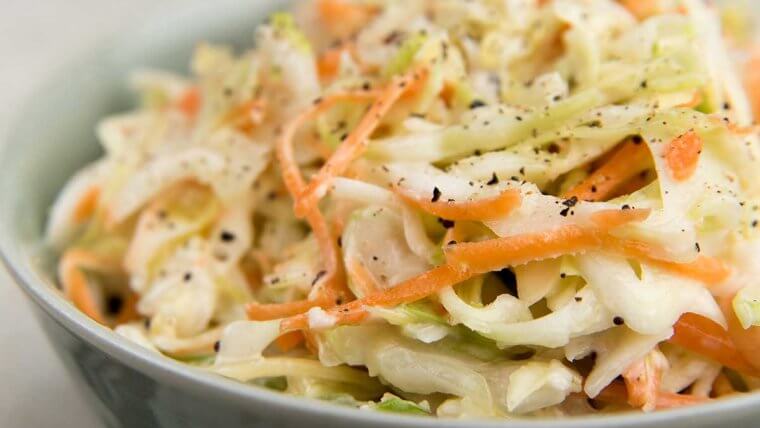 Ingredients
6 1/2 coarsely chopped cabbage, loosely packed (1 small head)
1 carrot, peeled and cut into chunks (about 1 cup)
1/2 cup prepared mayonnaise
1/4 cup sugar
2 1/2 tablespoons cider vinegar
1/4 teaspoon salt
1/4 cup evaporated milk
1/2 cup minced fresh parsley, well packed*
2 tablespoons chopped fresh chives and scallions (optional)
Directions
*Be sure the parsley is not wet from rinsing. Pat it dry before adding it to the slaw.
Serves 4 to 6
Total Time: 30 minutes
Working in batches, fill a blender to the top with chopped cabbage and add cool water until 3/4 full.
Whirl on low speed for about 4 seconds, just until the cabbage is evenly chopped-but not too fine-and transfer to large colander.
Repeat with the remaining cabbage. Occasionally stir the cabbage in the colander from the bottom to help it drain until the water completely stops dripping.
Place the carrot chunks in the blender and cover them with cool water. Whirl for about 8 seconds. Drain the carrots well.
In a small bowl, whisk together the mayonnaise, sugar, vinegar, salt and evaporated milk and set the dressing aside.
In a serving bowl, mix together the well-drained cabbage, carrots, and the parsley.
Toss with the dressing and add more sugar, vinegar, and/or salt to taste. If you like, serve topped with chives or scallions.
Tightly covered and refrigerated, this slaw will keep for a week.