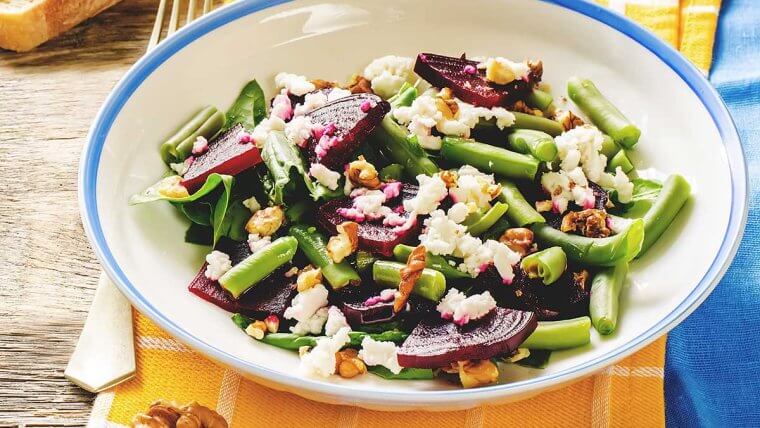 Ingredients
Vinaigrette
Juice of 1 lemon
Zest of 1/2 lemon, minced
2 Tbs apple cider vinegar
1 garlic clove, minced
1 tsp Dijon mustard
2 Tbs minced fresh dill
1/4 tsp cracked pepper
1/2 cup sunflower oil
Salad
1 cup buckwheat groats [kasha]
2 bay leaves
1 tsp salt
2 cups water
2 medium beets, roasted*
1/2 pound green and/or yellow beans, blanched
2 tsp sunflower seeds, toasted
2 hard-cooked eggs for garnish
Directions
*Roasting beets is a great way to preserve their sweet flavor and gorgeous color. Wash, dry and securely wrap each beet individually in foil. Roast in a 375oF oven for 40 minutes to an hour, depending on size. Cool, unwrap and slip off the skins before using.
To make vinaigrette, combine lemon zest, juice, vinegar, garlic and Dijon mustard and whisk to blend. While whisking, slowly drizzle in the oil. Add 1 Tbs dill and season to taste with salt and pepper. Set aside.
Next, spread kasha in a single layer on a pan and roast in a 350oF oven for 5 minutes, or until golden and fragrant. Remove from oven and cool. Bring water to boil in a small pot and stir in the roasted kasha, bay leaves and salt. Cover and reduce heat to low for 15 minutes. Remove pot from the heat and leave it covered for an additional 5 minutes. Fluff kasha with a fork and cool to room temperature.
Peel and dice the roasted beets into 1-inch cubes. Toss with a small amount of vinaigrette and set aside to marinate. Trim the ends of the blanched beans and slice each bean into three pieces on the bias. To assemble the salad, toss kasha and beans with enough vinaigrette to coat. Gently mix in the marinated beets, the remaining dill and toasted sunflower seeds. Turn onto a serving dish and garnish with an arrangement of sliced eggs and dill sprigs. Serves 4-6.