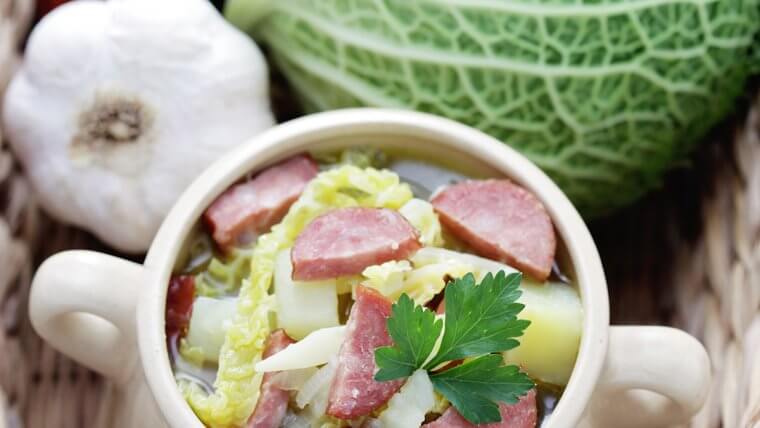 Ingredients
2 lbs. Italian sausage (6 to 8 links). Use the mild sausage without anise
1/2 c. finely chopped Spanish onion- our sweet onions are fine
2 tbsp. cooking oil (olive oil)
2 tbsp. butter
1 1/2 c. dry red wine (Italian red)
1 toe garlic, mashed
1 lg. savoy cabbage (curley leaf) with some dark green leaves, about 3 lbs. (or 2 sm. ones)
2 tbsp. salt pork, finely chopped
1 (16 oz.) can stewed tomatoes
Salt and pepper
Directions
Prick sausages in several places with a fork, place in a deep dish, cover with wine to which the mashed garlic has been added. Cover and set aside to marinate for 30 minutes or longer.
Separate the cabbage leaves, wash thoroughly in salt water then rinse. Cut off the fibrous center core of the heavy leaves. Set aside to drain. Put the olive oil, butter and finely chopped salt pork in a 6 quart kettle. Place over moderate heat, add onions and brown to transparency. Drain the sausage and save the wine marinade. Add sausage to kettle and saute until lightly browned. Add wine marinade. Simmer until partly absorbed. Add stewed tomatoes, cabbage and an additional 1/2 cup of wine. Cover and stir occasionally. Cabbage will wilt and form additional liquid.
Cook on low heat until cabbage is tender, about 40 minutes. DO NOT OVERCOOK. Salt and pepper to taste. Serve in soup bowls with Italian hard bread.