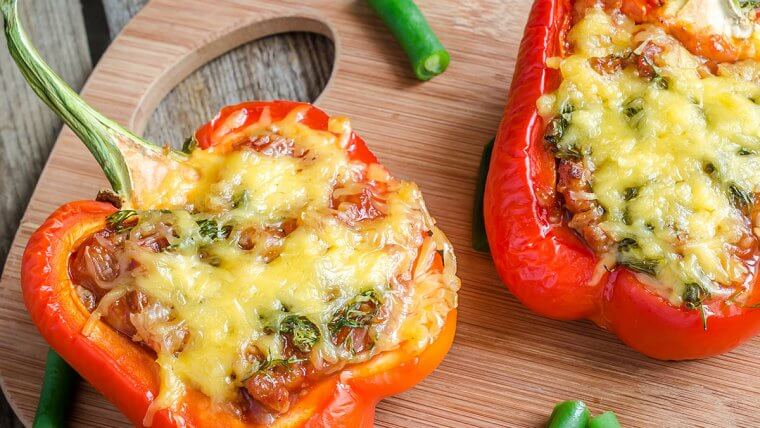 Ingredients
4 large bell peppers (any color), tops removed, peppers cored and seeded
1 tablespoon extra virgin olive oil
1 large yellow onion, finely chopped
1/2 pound ground turkey, buffalo, beef or mild or spicy turkey sausage, casings removed
3 cloves garlic, finely chopped
1 medium zucchini, finely chopped- I like to add sauted broccoli, eggplant, beets, or whatever I have in my fridge.
1/2 cup cilantro, chopped
1/4 cup dried currants
1 tablespoon lemon juice
1/2 cup plain rice, soy, or almond milk
1 tablespoon mild curry powder
Salt and pepper to taste
4 cups cooked millet or quinoa, hot
1 lemon, cut into wedges (optional)
Directions
Preheat oven to 350°F.
Bring a large pot of water to a boil. Add peppers and cook for 3 minutes. Drain peppers and run under cold water until completely cool; set aside.
Heat oil in a large skillet over medium heat. Add onions and cook until soft, about 3 minutes. Add turkey or turkey sausage and garlic and cook, breaking up turkey with a wooden spoon, until evenly browned, about 5 minutes. Add zucchini, cilantro, currants and lemon juice. Cover and simmer over low heat for 2 to 3 minutes, stirring occasionally. Remove skillet from heat & set aside.
Arrange peppers in a shallow baking dish, hollow-side up, so that they are touching. Using a slotted spoon, divide turkey mixture between peppers, using all of the stuffing and reserving liquid remaining in skillet. Bring reserved liquid in skillet to a boil over medium high heat. Reduce heat to low, then whisk in rice, soy, or almond milk, curry powder, salt and pepper. Simmer, whisking constantly, until curry powder has completely dissolved, about 1 to 2 minutes. Spoon sauce evenly over each stuffed pepper. Cover dish with aluminum foil and bake for 25 to 30 minutes, or until peppers are tender.
To serve, divide millet or quinoa evenly among 4 plates and arrange peppers on top. Spoon any liquid remaining in the baking dish on top of the peppers and serve, garnished with lemon wedges, if desired.