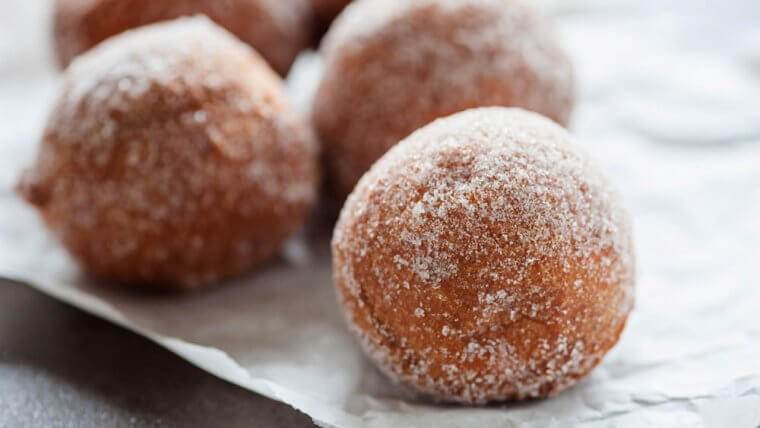 Ingredients
1 winter squash (to yield at least ¾ cup when roasted and mashed)
2 cups all-purpose flour
2 teaspoons baking powder
¼ teaspoon baking soda
½ teaspoon salt
½ teaspoon ground cinnamon
½ teaspoon freshly grated nutmeg
¼ teaspoon ground cloves
2 tablespoons butter
½ cup sugar
1 large egg
1 teaspoon vanilla extract
¼ cup plain yogurt or buttermilk
Vegetable oil for frying
Cinnamon sugar for dusting (½ cup sugar mixed with ½ teaspoon cinnamon) (optional)
Directions
Preheat the oven to 350°F. To prepare the squash, cut in half lengthwise, remove the seeds, and roast, cut side down, on a lightly oiled or parchment-lined baking sheet until very soft. When the squash is cool enough to handle, scrape out the flesh into a strainer and let drain for an hour or so. Mash the squash or crank it through the fine holes of a food mill. Refrigerate or freeze until needed. Sift the flour, baking powder, baking soda, salt, cinnamon, nutmeg, and cloves into a large bowl.
Using a hand-held electric mixer or stand mixer, cream the butter and sugar. Add the egg, vanilla, buttermilk, and ¾ cup mashed pumpkin, beating until smooth.  Add the flour mixture and mix gently on low speed until just combined, stopping once or twice to scrape down the sides of the bowl with a rubber spatula.  In a Dutch oven or other deep, heavy pot, heat 2 to 3 inches of oil over medium-high heat to 365°F on a candy or deep-frying thermometer. Pour the cinnamon sugar into a wide, shallow bowl or brown paper lunch bag, if using. Line a baking sheet with two layers of paper towels. Scoop tablespoons of dough into the hot oil in batches, being careful not to crowd the pan.
Fry for 60 to 90 seconds per side, until golden brown and cooked through. Break open a test doughnut hole from the first batch to make sure they are cooking correctly; adjust the heat level of the oil as needed. Using a slotted spoon, transfer the doughnut holes to the paper towels to drain. Roll the warm doughnut holes in the sugar, or add a few to the bag and shake until covered. Repeat with the remaining dough. Serve with a mug of hot mulled cider.