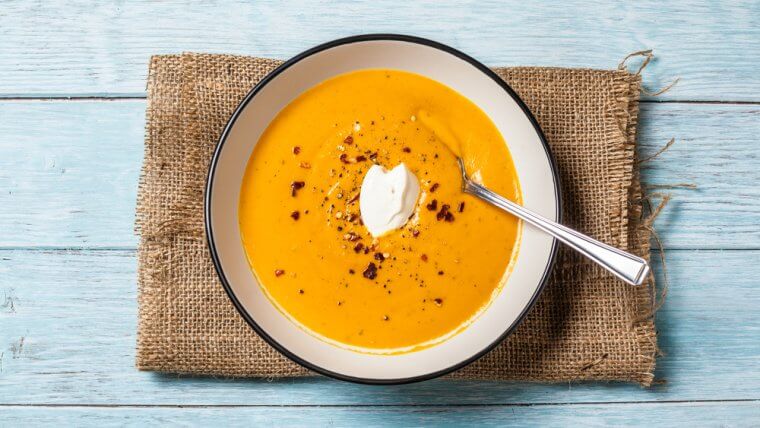 Ingredients
2 medium sized butternut squash (or one butternut and one buttercup)
Raw butternut squash seeds
1 8 oz package cream cheese
Olive oil
1-2 apples, cored, peeled, and sliced into a few pieces
4 tablespoons butter
6 tablespoons onion, chopped
3 cups chicken stock (use vegetable to keep the recipe vegetarian)
1 teaspoon dried marjoram
1/4 teaspoon ground cayenne pepper
1/2 teaspoon ground black pepper
Kosher salt
Directions
Preheat the oven to 375 degrees F. Cut the squash in half lengthwise and remove the seeds, placing the seeds into a sieve. Clean the seeds and spread them onto a baking sheet. Drizzle them with olive oil, and sprinkle with salt and pepper. Set aside. Place the squash on another baking sheet. Drizzle the flesh with olive oil, and sprinkle with salt and pepper.
Bake for about 45 minutes, until the squash is tender. Remove from the oven and let cool.  After you remove the squash from the oven, bake the seeds for about 15 minutes until nice and browned, stirring occasionally. When the squash is cooled, remove the skin.  Melt the butter in a soup pot. Add the onion, and dice apple  and cook until softened.
Add the stock, squash, marjoram, black pepper, and cayenne pepper. Cook for about 5 minutes.  Add the cream cheese, and cook for an additional 5 minutes, until melted. Puree the soup using an immersion blender or food processor.  Season to taste with Kosher salt.  Serve topped with the roasted squash seeds.