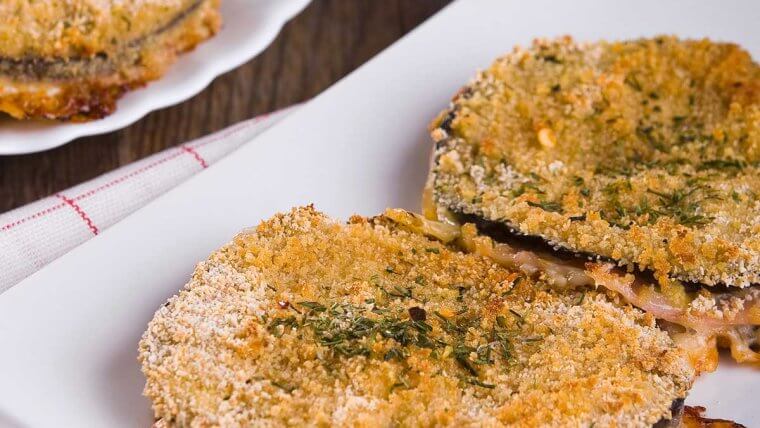 Ingredients
1 large eggplant
½ cup all purpose flour
2 eggs beaten
2 cups fresh bread crunbs
Vegetable oil for frying
I head radicchio
Salt and freshly ground black pepper
Dressing
2 tsp olive oil
1 garlic clove, crushed
1 tbsp capers, drained
1 tbsp white wine vinegar
1 tbsp chili oil
Directions
Remove the ends from eggplant. Cut into ¼ in slices. Set aside. Season the flour with a generous amount of salt and black pepper. Spread out in a shallow dish. Pour the beaten eggs into a second dish. Spread out the bread crumbs in a third. Dip the eggplant in the flour, then in beaten eggs, and finally in the bread crumbs, patting them on to make an even coating.
Pour vegetable oil into a large frying pan to a depth of about ¼ in. Heat oil, then fry eggplant slices for 3-4 minutes, turning once. Drain well on paper towels. Heat the olive oil in a small pan. Add the garlic and the capers, and cook gentle heat for 1 minute. Increase the heat, add the vinegar, and cook for 30 seconds. Stir in the chili oil, and remove the pan from the heat.
Arrange the radicchio leave on the two plates. Top with the hot eggplant slices drizzle over the vinaigrette, and serve.