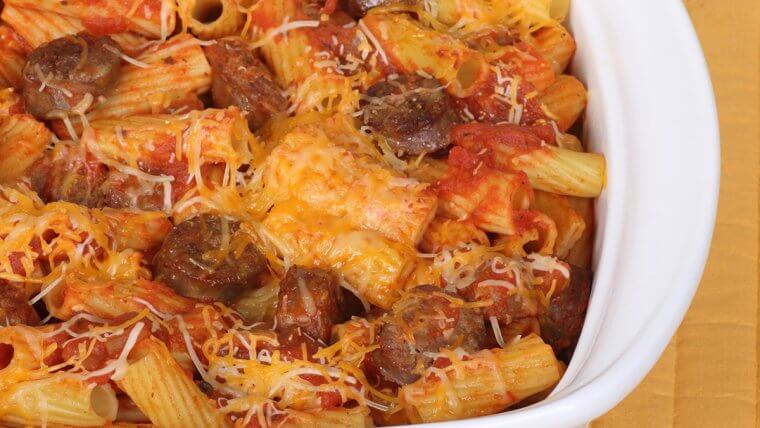 Ingredients
1 pound hot Italian sausage links
1 (16 ounce) package rigatoni pasta
1 (24 ounce) jar marinara sauce
1 bulb fennel, trimmed and thinly sliced
1 roasted red bell pepper, chopped
1/2 yellow onion, chopped
1/4 cup chopped fresh basil leaves
2 cloves garlic, minced
salt and pepper to taste
1 cup shredded mozzarella cheese
1/2 cup grated Parmesan cheese
1/2 cup grated Asiago cheese
Directions
Preheat the oven to 350 degrees F (175 degrees C). Bring a large pot of lightly salted water to a boil. Add pasta and cook until almost tender, about 10 minutes.
Fry the sausages in a large skillet over medium heat, turning frequently until cooked through, about 15 minutes. Remove from the skillet, cool slightly and slice into rounds. Add the garlic, fennel and onion to the skillet and season with salt and pepper. Cook and stir for about 5 minutes, then add the roasted red peppers, basil, sliced sausage and pasta sauce. Heat through over low heat until warmed.
Combine the pasta with the sauce and vegetables in a 9×13 inch baking dish. Spread the mozzarella, Parmesan and Asiago cheeses over the top. Garnish with a few fennel leaves left from the bulb. Cover with aluminum foil.
Bake for 30 minutes in the preheated oven, then remove the aluminum foil. Set the oven to broil, and cook for another 5 minutes or until cheese is browned.
This is another nice recipe to sneak lots of your veggies from this week's box into. Mustard greens, beet greens, onions, broccoli and summer squash would all be great with this one.