It's the second to the last box of the season! Please remember to return all of your old TSA boxes that you still have at home to Mazopiya. Since they can't be recycled the traditional way, reusing these boxes can really help keep our cost and environmental impact down.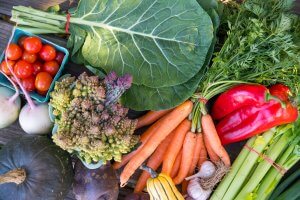 This week finally granted us some good old-fashioned fall weather, with bright, crisp days and cool nights. Some of the crops adore this weather and will hold in the field until the first hard frost. The crops in our tunnels have also been benefitting tremendously from the sunshine, which heats the air under the plastic to summer temperatures. The soil "banks" this heat throughout the day and radiates it back out at night when the air is cooler, keeping the plants happy all day long.
A couple good frosts have given us some "frost-kissed" veggies. When the temperature drops below freezing, our hardy crops get sweeter. They produce tons of sugars which they send throughout their parts to keep the water from freezing and prevent cell damage. You'll notice that our carrots have become very sweet, and our radishes and other root crops will be sweeter, too. Leafy veggies do the same thing—Brussels sprouts, for example, are much sweeter after a good freeze, so you're getting them at the right time!
We look forward to delivering Romanesco cauliflower. Two out of three years, it looks more or less like pointy green cauliflower but wonderfully fantastic in appearance with a holographic spiral pattern. Every third year, its growth is just plain weird. This year, for reasons unknown, we've got strange growth patterns and bizarre shapes galore. Fortunately, this doesn't affect flavor or nutritional quality. Cook it like you would with normal cauliflower, but maybe not quite as long.
There are optional apples for pickup at Mazopiya, as they were a bit blemished this week. If picked up on Thursday, half shares can take up to three, and full shares can take up to six. The apples themselves are delicious, and the blemishes will wash off if scrubbed. We will bring the apples back to Wozupi on Friday morning, so please contact us if you would like to arrange a pickup time.
We've got an assortment of squash this week, including red kuri, buttercup, and black forest. All of these are good for roasting with a nice, dry meat. They should last a long time on your counter, and may actually benefit from curing longer and sweetening up more. Just keep an eye on them and don't let a minor blemish become their demise.
We're finally delivering collard greens, but only for full shares—half shares will receive the last of our tender scarlet kale this week. Our collard greens struggled with insects this year, but we were able to get some good, clean, succulent growth once the caterpillars were out of the picture.
This week, you can look forward to the last of our cherry tomatoes, which held on longer than our slicers, beefsteaks, and heirlooms. We're also excited to give you a beautiful round of baby greens during our last delivery next week. Until then, enjoy another box of our fall veggies!
Picking Up Your Share
If you forget to pick up your share at Mazopiya on Thursday, the boxes will be placed in the cooler, so you will need to ask an employee to get your box. If your box is not picked up by Sunday night, they will be picked up by our staff on Monday morning and will be donated to the CAP Food Shelf. If you want us to hold your share longer, please contact us at 952.233.9184 or email matt.smaus@shakopeedakota.org. If you have any questions, please do not hesitate to ask.
If you purchased an egg share, you will need to ask an employee at Mazopiya to retrieve them from the back. 
---
Box Opening & Return
Please return empty, flattened boxes to your pickup site each week when picking up your share. You will not be able to recycle the boxes, but we can, so we appreciate you returning them each week. 
Opening your box: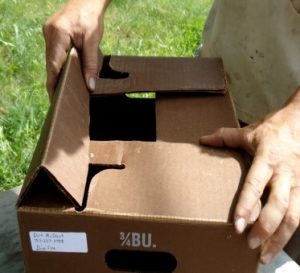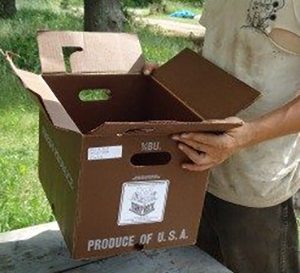 Breaking down your box: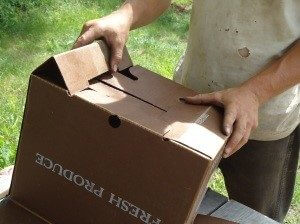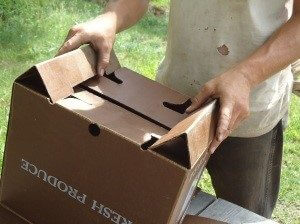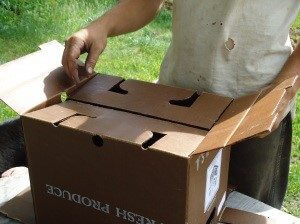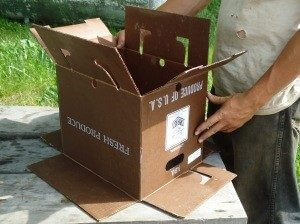 What's In Your Box This Week
In Your Box This Week:
Apples
(Optional at Pick-Up Site)
Cooking Tips: Place whole, cored apples in a baking dish with a little water and stuff with with butter, brown sugar, cinnamon, and nuts (optional). Bake until soft and filling is browned.
Storage Tips: Keep apples in the crisper drawer of your refrigerator, ideally between 30-35 degrees and at high humidity.
Cooking Tips: Shred or shave Brussels sprouts and saute with oil, garlic, and herbs over high heat for a few minutes until bright and tender for a quick, easy side dish.
Storage Tips: Store unwashed, untrimmed Brussels sprouts in a breathable or perforated bag in the produce drawer in your fridge.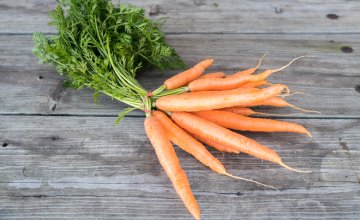 Cooking Tips: Add carrots to your favorite smoothies or juices for a natural sweetness and nutrient boost.
Storage Tips: Twist or trim off tops from unpeeled carrots and store the vegetables in a container with water, changing every few days.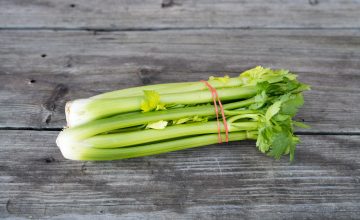 Cooking Tips: Skip the chips and try dipping celery in your favorite hummus or dip for a more nutritious crunch!
Storage Tips: Wrap celery hearts in foil and refrigerate to help them retain moisture. Once cut, submerge celery in water and store in a container with a lid in fridge.
Collards
(Full Shares Only)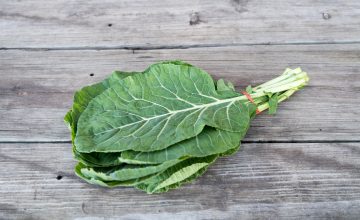 Cooking Tips: Try adding raw collards to salads and slaw to mix up your greens and add a new flavor.
Storage Tips: Store unwashed collards in an air-tight plastic bag and refrigerate. Wash when ready to use.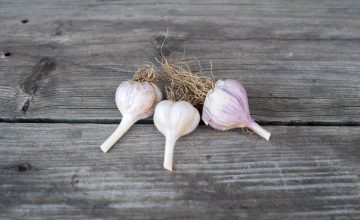 Cooking Tips: Slice the top off of a garlic head, drizzle with olive oil, and wrap in foil. Roast until cloves are brown and tender and add to pasta sauces, mashed potatoes, and other savory dishes.
Storage Tips: Keep garlic bulbs at room temperature in a cool, dry place and remove cloves as needed.
Peppers
(Red, Sweet Italian)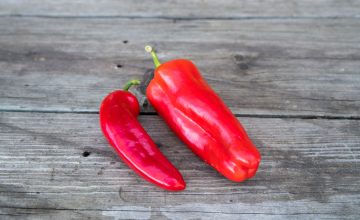 Cooking Tips: Halve the peppers and remove stems and seeds. Put them cut side down on a lined baking sheet and bake until skins are blistering. Add roasted peppers to soups, sauces, and chili.
Storage Tips: Place peppers in a plastic bag in your fridge's produce drawer and check them frequently for moisture as it can cause them to go bad faster.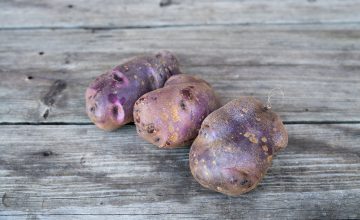 Cooking Tips: Roast chopped potatoes tossed with oil, garlic, and herbs on a baking sheet sprayed with oil or cooking spray until browned and tender.
Storage Tips: Store potatoes in a cool, dry location away from direct sunlight and make sure any containers used for storage are well-ventilated.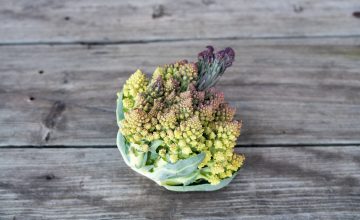 Cooking Tips: Cut into florets like you would broccoli or cauliflower and roast, pickle, or try adding it to your favorite past dish.
Storage Tips: Place romanesco in a plastic bag in your refrigerator and do not wash until ready to use.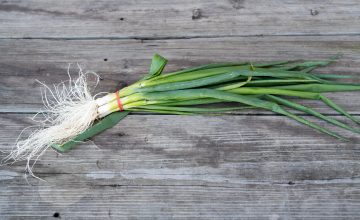 Cooking Tips: Halve the scallions lengthwise and toss with olive oil, salt, and pepper and grill them until charred and tender at their thickest part – about one minute per side – for a perfect side or topper for meat and potato dishes.
Storage Tips: Wrap white ends of the scallions in damp paper towels and refrigerate in a plastic bag. Check and wet the towels again as they dry out.
Scarlet kale
(Half Shares Only)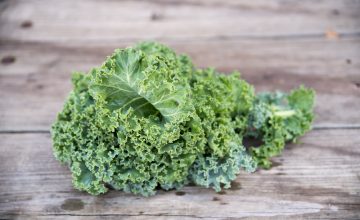 Cooking Tips: Try using blanched kale leaves as a replacement for tortillas in wraps and burritos or a lettuce alternative in salads and sandwiches.
Storage Tips: Tightly wrap kale in a paper towel and place in a plastic bag in the coldest part of your fridge.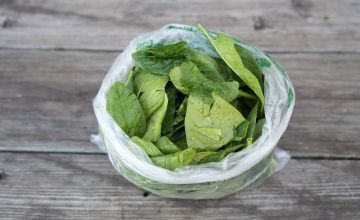 Cooking Tips: Blend a handful (or two) of spinach in your favorite smoothies or sauces for added nutrients.
Storage Tips: Wrap spinach in dry paper towels and store in a clean container in the produce drawer of your refrigerator.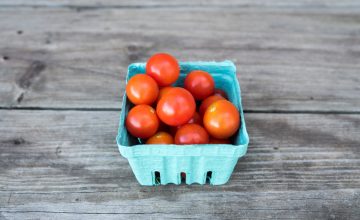 Cooking Tips: Toss tomatoes in olive oil and roast in oven until bursting and then simmer with olive oil, garlic, and onions over the stove. Blend the mixture after it finishes cooking for a simple and delicious tomato sauce.
Storage Tips: Store tomatoes at room temperature, like on our counter, to maintain their flavor and texture.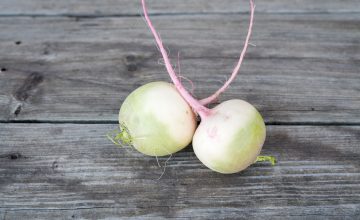 Cooking Tips: Watermelon radishes can be eaten cooked or raw. Try adding thin slices to salads or stir fry for extra texture and bite.
Storage Tips: The radishes can last a few weeks in your refrigerator when kept in a plastic bag in the crisper.
Winter squash
(Red Kuri, Buttercup, or Black Forest)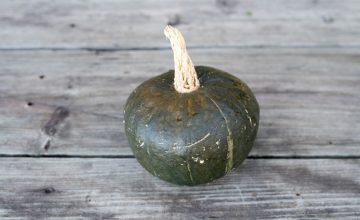 Cooking Tips: Cube squash and steam until fork tender (about 10-15 minutes depending on size). Serve with butter, salt and pepper.
Storage Tips: Squash should be stored in a cool, dry place and do not need to be refrigerated.
Recipes:
Minestrone Soup

2 large rutabagas, peeled and diced (or beets, turnips, potatoes or all of the above)
2 handfuls broccoli or cauliflower, chopped
1-2 bunches greens (try braising mix or collards), cleaned and chopped
2 carrots, diced
1 sweet yellow onion, diced
3 cloves garlic or ½ bunch green garlic
1 tablespoon tomato paste
1 can diced tomatoes or fresh tomatoes
1 can beans, drained
1 large handful small pasta
1 teaspoon oregano
1 teaspoon thyme
1-2 tablespoons oil
Salt and pepper to taste

In a large saucepan, sauté onion in oil over medium high heat until beginning to brown. Push onion to one side and add tomato paste to pan. Cook, stirring continuously, until paste has darkened a shade or two. Add garlic, herbs, canned tomatoes and about 2 cans of water. Stir in remaining veggies, except
greens. Bring to a simmer and cook for about 15 minutes, until rutabaga is mostly tender. Add beans, pasta and greens and continue cooking until pasta is ready. Season to taste with salt and pepper and a drizzle of balsamic vinegar, if desired. Serve garnished with shredded parmesan and croutons.