With temperatures falling into the 40s and our fields taking a weeklong bath, we find ourselves appreciating the reprieve of working in the covered high tunnels. We are continuing to pull old plants and turn beds over into winter spinach and salad greens and will do so through the middle of October. Be sure to lend a sympathetic ear to your local farmers this season, as many are experiencing a disheartening harvest due to the weather conditions.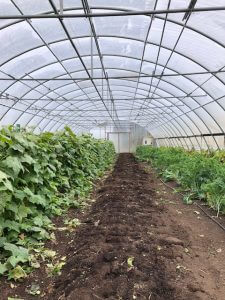 While we grow the vast majority of what is included in your TSA boxes, we don't grow everything. On three occasions during the last four years, we have brought a product in. This year, by design, we opted to bring potatoes in. Because potatoes are low-value and can be easily produced on a large scale, it makes sense for us to prioritize our "fresh market" crops like salad mix, broccoli, tomatoes, etc. and bring in the potatoes for your TSA box. So, this year we bought potatoes from an Amish-run farm called State Line Produce in Iowa. The Amish are able to grow organically while keeping their prices low because of their traditional farming skills, use of older and cheaper technology, lower cost of living, and employing their families in the farm business.
In this week's box, we are happy to once again have a delicious salad mix which was grown in the safety of one of our high tunnels. Because of this, the mix has not fallen victim to diseases caused by damp conditions or been pulverized by recent heavy rains.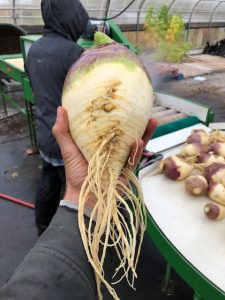 We are also bunching "snack" carrots this week! These sweet treats are a very different animal from the larger storage carrots we have been harvesting. You'll also find rutabaga in this box. Rutabaga is a traditional Scandinavian "root" crop, also called a "Swede," and is generally eaten roasted, mashed, or cooked in soups and stews. Some of our rutabaga grew to be up to 10 pounds!
Finally, we have a new item in this week's box that we've never grown before: black Spanish radishes! This winter storage radish can be shredded raw into a slaw, but most people seem to roast or sauté them with butter and salt. The greens can be cooked, too. It's a new vegetable to all of us, so you'll have to experiment a little! While we try to focus on the things people like to eat the most, we also enjoy continuing to experiment and providing a diverse range of crops to our members. Bon Appétit!
Picking Up Your Share
If you forget to pick up your share at Mazopiya on Thursday, the boxes will be placed in the cooler, so you will need to ask an employee to get your box. If your box is not picked up by Sunday night, they will be picked up by our staff on Monday morning and will be donated to the CAP Food Shelf. If you want us to hold your share longer, please contact us at 952.233.9184 or email matt.smaus@shakopeedakota.org. If you have any questions, please do not hesitate to ask.
If you purchased an egg share, you will need to ask an employee at Mazopiya to retrieve them from the back. 
---
Box Opening & Return
Please return empty, flattened boxes to your pickup site each week when picking up your share. You will not be able to recycle the boxes, but we can, so we appreciate you returning them each week. 
Opening your box: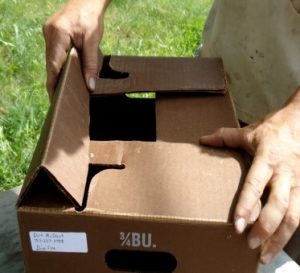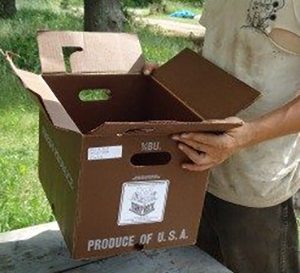 Breaking down your box: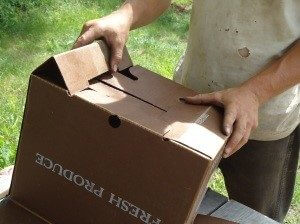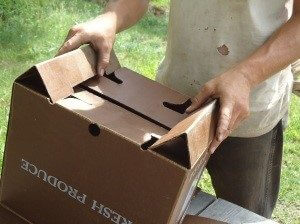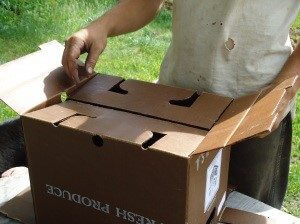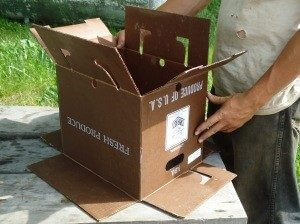 What's In Your Box This Week
In Your Box This Week: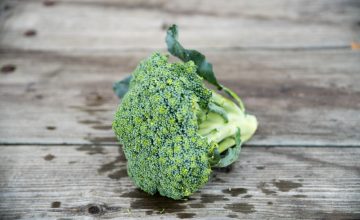 Cooking Tips: The stalk is high in vitamins, minerals, and protein. Try adding chopped stalks to a salad or roasting them.
Storage Tips: Store unwashed broccoli in a plastic bag in the fridge. Do not wash until you are ready to use it.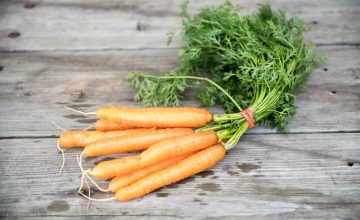 Cooking Tips: Cover chopped carrots in water and simmer until tender. Toss in a sauce made by cooking butter, brown sugar, and salt.
Storage Tips: Store carrots in a container or bag with a small amount of water or damp paper towels.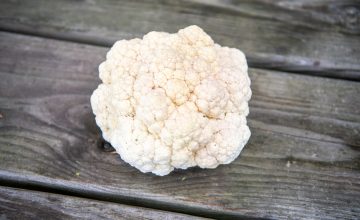 Cooking Tips: Steam cauliflower until tender and puree with butter and cream or sour cream for an alternative to mashed potatoes.
Storage Tips: Keep cauliflower loosely wrapped in plastic in the refrigerator and wash when ready to use.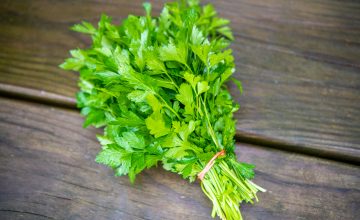 Cooking Tips: Use the stems for flavoring stocks, soups, and sauces by tying them together and dropping in during cooking.
Storage Tips: Snip the bottom of the stems and place the trimmed end in a jar or container with water.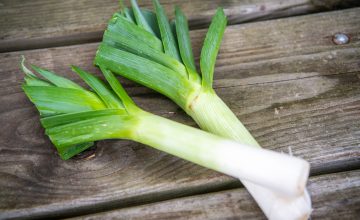 Cooking Tips: Simply drizzle the leeks with oil, salt and pepper and roast for the perfect side dish.
Storage Tips: Store unwashed, untrimmed leeks in the produce drawer in your refrigerator.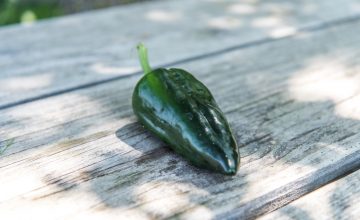 Cooking Tips: Rub the peppers with oil and roast in oven or under broiler until charred on all sides, turning occasionally with tongs.
Storage Tips: The peppers can be frozen raw or roasted to be used later in air tight containers or bags.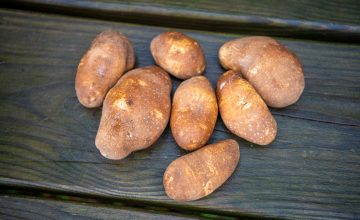 Cooking Tips: Russets are well suited for boiling, and because of their high starch content, mashed russets are light and fluffy.
Storage Tips: Store in a well-ventilated container in a dry location away from sunlight.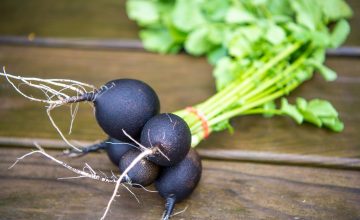 Cooking Tips: Toss sliced radishes with oil, herbs, salt, and pepper and bake in the oven at 425°F for about 30 minutes.
Storage Tips: Place in a perforated plastic bag and store in the refrigerator crisper. If stored properly, they can last up to 2 months.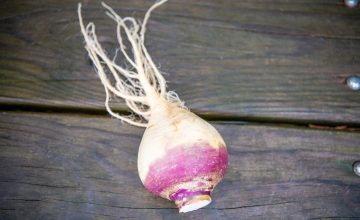 Cooking Tips: Place peeled and cubed rutabagas in a pan of cold salted water. Simmer for 30 to 40 minutes or until very tender.
Storage Tips: Rutabagas will keep for months when stored properly in a plastic bag in the refrigerator.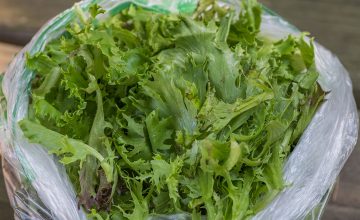 Cooking Tips: Toss greens with sliced red onions, walnuts, mandarins, crumbled blue cheese, and top it off with a citrus vinaigrette.
Storage Tips: Lay greens on paper towels, then roll up and place in a plastic bag.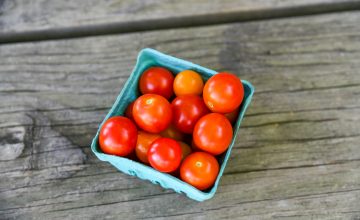 Cooking Tips: Toss cherry tomatoes with garlic, olive oil, salt and pepper and bake for 20-25 minutes in the oven at 375°F until soft and fragrant.
Storage Tips: Keep cherry tomatoes at room temperature for the best flavor and to avoid the mealy texture.
Winter Squash
(Butternut)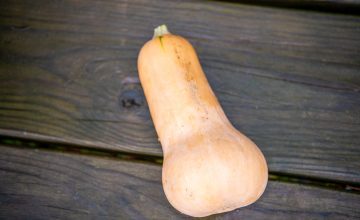 Cooking Tips: Bake squash at 350°F for 30-60 minutes, depending on size. Add butter and maple syrup or brown sugar, if desired.
Storage Tips: Whole squash will keep for a month or more in a cool, dark place; no need to refrigerate.
Recipes:
Butternut Squash Potato Salad

Source: Minimalist Baker

5-7 small or medium potatoes
1½ cups butternut squash, peeled and cubed
2 tablespoons olive oil
Sea salt and ground black pepper
3 tablespoons Greek yogurt, plain
1 tablespoon light or regular mayonnaise
1 tablespoon white vinegar
1 teaspoon grainy mustard
¼ teaspoon ground coriander (optional)
2 medium radishes, chopped
2 tablespoons green onion, chopped

Rinse and scrub your potatoes and place them in a large pot. Top with cold water until just covered and place on high heat until boiling. Reduce heat and cook until tender. Stick a knife in the center of a potato—it should slide off easily when done. Drain and set aside to cool when fully cooked; cut in quarters. Meanwhile, toss butternut squash cubes in 2 tablespoons of olive oil and ½ teaspoon each of sea salt and pepper. Roast for 15-20 minutes at 400°F, or until tender. You don't want it to get mushy, just soft. While cooking, prepare your dressing in your serving bowl. Add Greek yogurt, mayonnaise, vinegar, mustard, coriander, and a healthy pinch each of salt and pepper. Whisk and taste, adjust seasoning and consistency as desired. Add squash, quartered potatoes, radishes, and green onion to the bowl and toss. Serve immediately.

Tomato and Leek Omelette

8 eggs
2-3 tablespoons of milk
Salt and pepper to taste
2 teaspoons olive oil
4 tablespoons leeks, coarsely chopped
2 ounces of cherry tomatoes, halved
2 tablespoons grated cheese

Put eggs in a bowl together with milk and whip. Add salt and pepper. Grease a baking dish with olive oil. Put leeks and tomatoes on the bottom. Pour in the egg mixture and add cheese on top. Bake in the oven for 20 minutes at 390°F.