It finally feels like fall is here to stay, and this week's harvest shows it. Winter squash, cabbage, celeriac, potatoes, and apples are all piled up high in your box. Not sure where to start? Try cooking up one of those fall recipes you've been meaning to try, or toss it all together and make a delicious soup!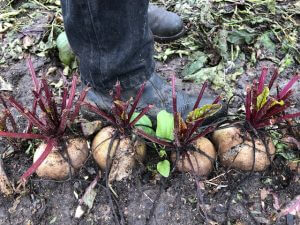 Our fields are very wet and it has set us back in terms of getting them cleaned up and prepared for next year. We haven't seeded our cover crops yet, and we usually like to spread compost and prepare our beds for next year's early plantings, but we have not been able to. With the forecast being what it is, it's possible that the ground may not dry out enough to do some of this maintenance before winter, but we've handled it before! We're already looking forward to a busy spring.
While the fields were wet, we were able to mow down some of our old crops around the farm, and the result is a fairly tidy looking landscape, which is always a nice sight. This is especially true when our farm is busy with tours from local organizations interested in what we do, which has been a common occurrence this fall.
The cool and damp air has our cucumbers succumbing fully to downy mildew. Although they're down and out for the year, we've tucked enough healthy cucumbers in our cooler to probably give out one more delivery this TSA season.
We're happy that our romaine lettuce is soldiering on and is as crunchy and sweet as it has been all season. Romaine has been a huge success for us this year, and one of the reasons is that we now "interplant" it with broccoli and cover it with anti-insect netting. The broccoli provides shade and shelter to the lettuce, and the netting keeps the leafhoppers off. Of all our interplanting experiments, broccoli and romaine has been our most successful.
As we dive into the final few weeks of our TSA season, don't forget that you can always find more of our vegetables at Mazopiya, located just down the road at 2571 Credit Union Drive in Prior Lake. While you're there, you may find some ingredients that weren't in this week's box—all of which you can toss into your fall soups and salads. You can also expect to see some baby greens in your box again soon! We hope you enjoy another box of fresh Wozupi veggies!
Picking Up Your Share
If you forget to pick up your share at Mazopiya on Thursday, the boxes will be placed in the cooler, so you will need to ask an employee to get your box. If your box is not picked up by Sunday night, they will be picked up by our staff on Monday morning and will be donated to the CAP Food Shelf. If you want us to hold your share longer, please contact us at 952.233.9184 or email matt.smaus@shakopeedakota.org. If you have any questions, please do not hesitate to ask.
If you purchased an egg share, you will need to ask an employee at Mazopiya to retrieve them from the back. 
---
Box Opening & Return
Please return empty, flattened boxes to your pickup site each week when picking up your share. You will not be able to recycle the boxes, but we can, so we appreciate you returning them each week. 
Opening your box: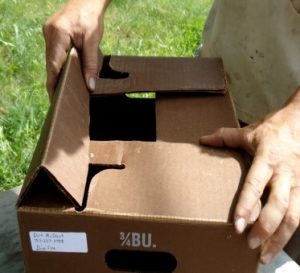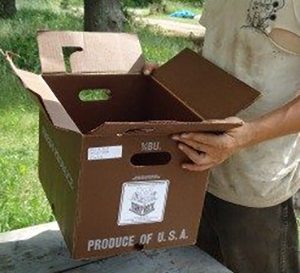 Breaking down your box: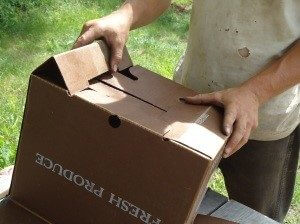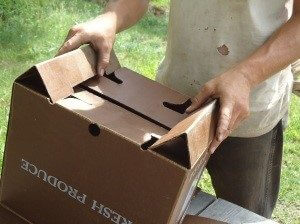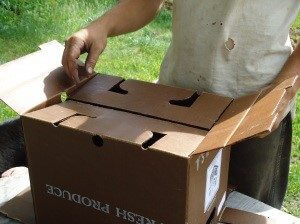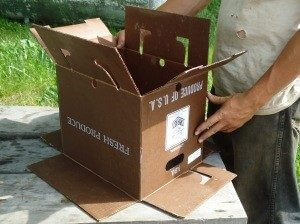 What's In Your Box This Week
In Your Box This Week: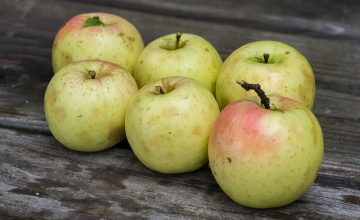 Cooking Tips: Gold apples are best used in salads or baked in desserts.
Storage Tips: Refrigerate apples to maintain quality, juiciness, and crispness.
Cooking Tips: Pour 3 tablespoons of water over broccoli florets in a bowl; cover and microwave for 4 minutes.
Storage Tips: Do not wash broccoli before refrigerating as water on the surface encourages its degradation.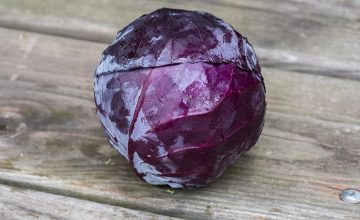 Cooking Tips: Add a touch of vinegar when cooking in water. This stops the lovely deep purple hue from running.
Storage Tips: Store the whole head in a plastic bag in the crisper drawer of your refrigerator for up to 2 weeks.
Cooking Tips: Toss with butter, salt, and pepper and roast for 20 minutes. Drizzle with lemon juice.
Storage Tips: Store unwashed carrots in a plastic bag in the coolest part of your refrigerator.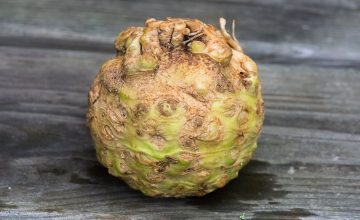 Cooking Tips: Substitute potatoes with celeriac to make mash. Add milk, herbs, and spices to bring out the flavor.
Storage Tips: Trim of stalks and refrigerate unwashed, covered for up to a week.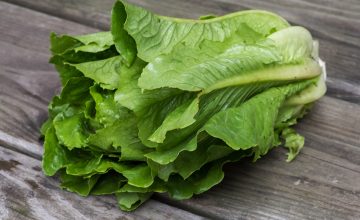 Cooking Tips: Top your favorite rice or noodle dishes with chopped romaine for added freshness and bulk.
Storage Tips: Wrap unwashed lettuce loosely in a plastic bag in the refrigerator. Leftover washed lettuce should be dried thoroughly before storing.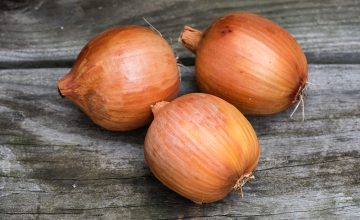 Cooking Tips: Add a tangy sweetness to your dishes by cooking yellow onions until they turn light brown.
Storage Tips: Do not store onions in a plastic bag. It will accelerate sprouting and spoilage due to lack of air circulation.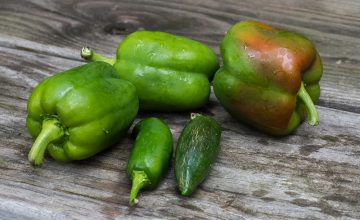 Cooking Tips: Toss halved, cleaned peppers with garlic and dried herbs and roast until charred and sweet.
Storage Tips: Store whole fresh peppers in a resalable bag in the produce drawer in your refrigerator.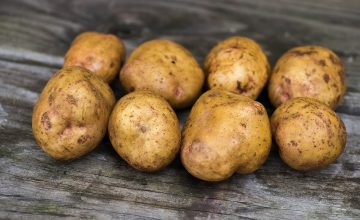 Cooking Tips: Roast halved potatoes tossed in oil, garlic, and seasonings, and top with parmesan or your favorite cheese for the last few minutes.
Storage Tips: Store potatoes in cool, well-ventilated places. Avoid refrigeration to avoid changing the vegetable's flavor.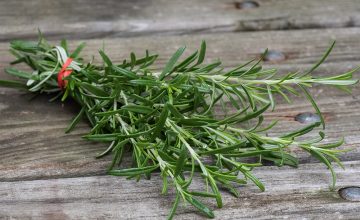 Cooking Tips: Try adding rosemary sprigs to olive oil for a flavorful, herb-infused oil for drizzling on salads, dipping bread, etc.
Storage Tips: Wrap the herbs in a damp paper towel and place in a plastic bag in the fridge for up to two weeks.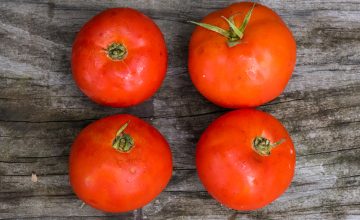 Cooking Tips: Toss tomatoes with oil, salt, and pepper and roast until soft with blistering peels to add extra flavor to salads, pastas, and sandwiches.
Storage Tips: Store ripe tomatoes at room temperature (on a counter, etc.) away from direct sunlight.
Pie Pumpkin (Full Shares)
Spaghetti Squash (Half Shares)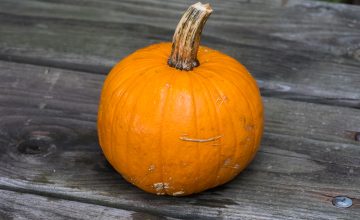 Cooking Tips: Clean and cut squash or pumpkin in half and drizzle with oil and selected seasonings. Roast on a baking sheet with cut side down until very soft.
Storage Tips: Store in a cool, dry place and check regularly for rotting or moisture until you use them.
Recipes:
Creamy Potato Soup

Source: The Fitchen

2-3 tablespoons olive oil
1/2 large yellow onion, sliced
1 clove garlic, minced
4 cups vegetable broth
4 cups gold potatoes, peeled and chopped
4 cups cauliflower, chopped
3 1-inch sprigs of fresh rosemary
1 tablespoon sea salt
1 teaspoon black pepper
Goat cheese, optional

In a large pot, bring olive oil to medium heat. Add onions and sauté 5 minutes until they become translucent. Add garlic and sauté 2-3 more minutes. Add broth to the pot and stir. Gently add potatoes, cauliflower, and rosemary. Bring the pot to a boil, then reduce to a simmer. Add sea salt and pepper. Cook for 20-30 minutes until potatoes and cauliflower are soft, test with a fork for tenderness. Remove the pot from the heat, do not drain off the liquid! At this point, use an immersion blender to puree the ingredients or allow the mixture to cool slightly and mix it in a blender. Blend until mostly smooth and creamy, with small chunks still remaining throughout. Serve with a garnish of rosemary, fresh-cracked pepper, and goat cheese.

Roasted Potatoes and Rainbow Carrots

Source: Just A Pinch

1 pound small red or yellow potatoes, halved if large
1 pound rainbow carrots, halved lengthwise
2 garlic cloves, peeled and smashed
2 tablespoons extra-virgin olive oil
Salt and pepper
Juice from half a lemon
1 tablespoon minced basil

Toss potatoes, carrots, and garlic with oil on a rimmed baking sheet; season with salt and pepper. Arrange in a single layer and roast in a preheated 400°F oven until the vegetables are tender and starting to brown about 40 minutes; toss halfway through cooking time. Remove from oven and squeeze lemon juice over top and sprinkle with minced basil. Enjoy!