Plump peppers, melons, and salad turnips are a few of the filling foods you'll find in this late-summer box. As we experience some farm transitions, we are starting to reach the end of some of our summer crops. However, don't let that deter you from the many fall veggies you can look forward to in the coming weeks!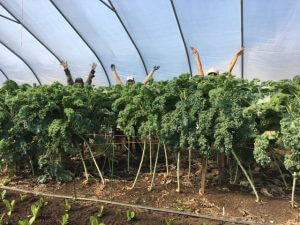 Our fall pea experiment worked! We harvested enough for our full shares this week, and look forward to having enough for everybody next week. The funny thing about our pea plants is that they're tiny, which we believe is their response to shorter days—they can feel that they don't have a long season ahead of them, so they're getting down to business and producing seeds as fast as they can. If planted several weeks earlier, we would maybe have larger plants with more peas—we'll write that down for next year!
One of the items in your box that we haven't seen since the beginning of the season are our salad turnips. These sweet, white Japanese turnips can be eaten right out of your hand like an apple. Or, if you're into more conventional turnip fare, feel free to slice them up and throw them in a salad or roast them as you usually would.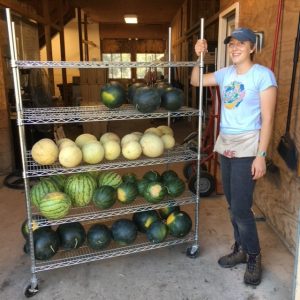 Our sweet red peppers continue to bring us a bountiful harvest, so you'll be seeing a lot of them in your box. We're also giving out the last of the muskmelon this week—better late than never! Most of our winter squash has also been harvested, and we're only waiting for them to cure before we start adding them to your boxes.
The warm weather should have our tomatoes ripening again. We have definitely noticed a slowdown with our trellised vegetables. Our cucumbers, in fact, responded to the cool spell by starting their decline—downy mildew takes cucumbers, melons, and squash plants down every year when it gets colder, and, unfortunately, it came a little earlier than usual this year.
Our new field, which was terraced and bermed, is looking like a success! The turf has established nicely and it resisted erosion during the heavy rain a couple weeks ago. The field has nicely delineated by a sharp border of grass, and the flower terrace will await its flowers coming next spring. It feels good to take care of the land in such a way—reducing erosion and setting it up for sustainable production of healthy food and beautiful flowers.
With our new field taking shape, our fall vegetables growing happily, and our late-summer veggies still filling the bellies of our TSA members, we're looking forward to what the rest of the season has in store.
Picking Up Your Share
If you forget to pick up your share at Mazopiya on Thursday, the boxes will be placed in the cooler, so you will need to ask an employee to get your box. If your box is not picked up by Sunday night, they will be picked up by our staff on Monday morning and will be donated to the CAP Food Shelf. If you want us to hold your share longer, please contact us at 952.233.9184 or email matt.smaus@shakopeedakota.org. If you have any questions, please do not hesitate to ask.
If you purchased an egg share, you will need to ask an employee at Mazopiya to retrieve them from the back. 
---
Box Opening & Return
Please return empty, flattened boxes to your pickup site each week when picking up your share. You will not be able to recycle the boxes, but we can, so we appreciate you returning them each week. 
Opening your box: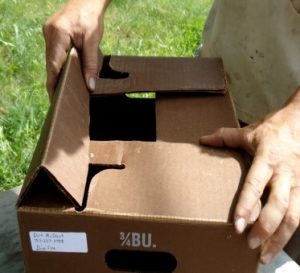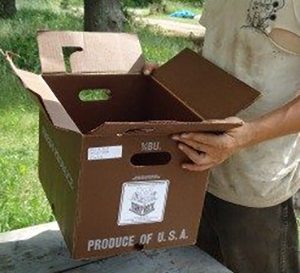 Breaking down your box: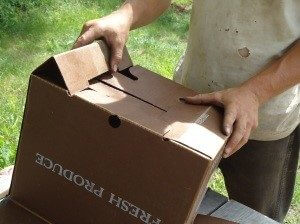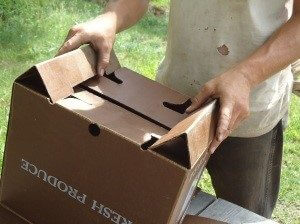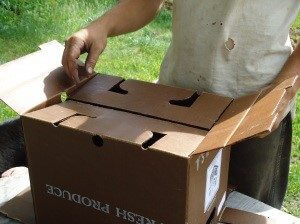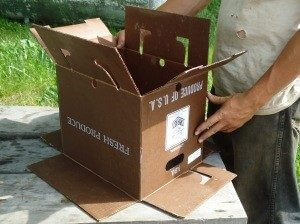 What's In Your Box This Week
In Your Box This Week: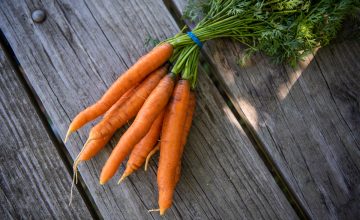 Cooking Tips: Toss shredded carrots into salads and sandwiches or stir into cake, muffin, and quick bread batter.
Storage Tips: Trimmed, unpeeled carrots can be refrigerated in an unsealed bag for about 2 weeks.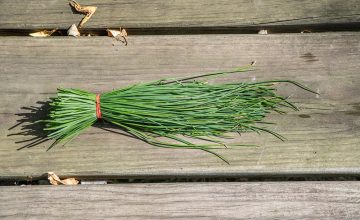 Cooking Tips: Snip chives with scissors instead of chopping them. Use as ganish for omelettes, potato dishes, and soups.
Storage Tips: Store fresh chives in the refrigerator in a resealable plastic bag for up to one week.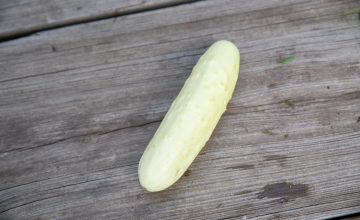 Cooking Tips: Add chopped seeded cucumber to fruit salsas for refreshing flavor and crunch.
Storage Tips: Wrap with paper towels and store in the refrigerator for up to 10 days.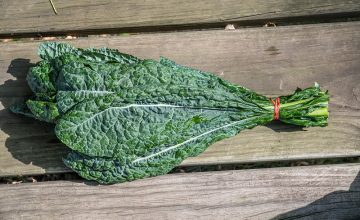 Cooking Tips: Bake kale chips with olive oil and salt.
Storage Tips: Store kale in a plastic bag in your refrigerator for up to 1 week.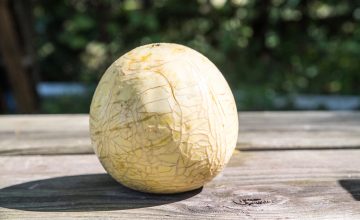 Cooking Tips: Blend melon with seeds removed for a muskmelon juice. Add your desired sweetner.
Storage Tips: After cutting the melon, wrap the remainder in plastic and store in the refrigerator for about 3 days.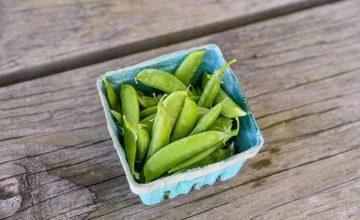 Cooking Tips: Add cold peas to lettuce salad to add fresh flavor to your salad.
Storage Tips: Peas will stay crisp for 3 to 4 days if stored in a plastic bag in the refrigerator.
Peppers
(Red Bell and Sweet Italian)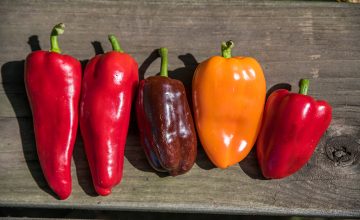 Cooking Tips: Sweet peppers are eaten raw or cooked, and are great in salads, savory dishes, stuffed, or eaten on their own.
Storage Tips: To freeze, slide sliced peppers into freezer bag and store in freezer up to 9 months.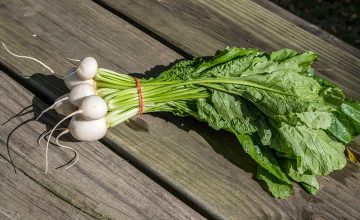 Cooking Tips: Enjoy salad turnips as you would radishes in fresh salads and relishes.
Storage Tips: Remove leaves and store the root and greens separately in the refrigerator.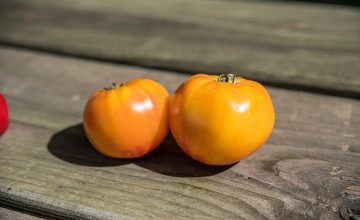 Cooking Tips: If tomatoes seem overly acidic, sprinkle sugar and salt, both of which will bring out the flavor.
Storage Tips: Keep unripe green tomatoes, stem side down, in a paper bag or in a cardboard box in a single layer.
Watermelon
(Full Shares Only)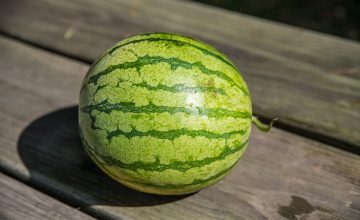 Cooking Tips: Toss watermelon with onion, feta cheese, and olives for a refreshing summer salad.
Storage Tips: Keep whole watermelon at room temperature for up to 2 weeks.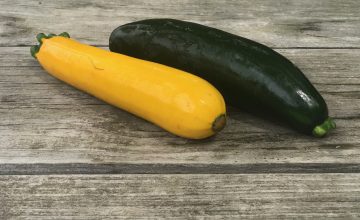 Cooking Tips: Boil squash for 3 to 6 minutes for a quick way to add to recipes.
Storage Tips: Store unwashed in the refrigerator for up to 1 week.
Recipes:
Minty Watermelon Cucumber Salad

Source: Taste of Home

8 cups seedless watermelon, cubed
2 English cucumbers, halved lengthwise and sliced
6 green onions, chopped
1/4 cup fresh mint, minced
1/4 cup balsamic vinegar
1/4 cup olive oil
1/2 teaspoon salt
1/2 teaspoon pepper

In a large bowl, combine watermelon, cucumbers, green onions, and mint. In a small bowl, whisk remaining ingredients. Pour over salad and toss to coat. Serve immediately or refrigerate, covered, up to 2 hours before serving.

Kale Zuppa Toscana

1 (16 ounce) package smoked sausage
2 potatoes, cut into 1/4-inch slices
3/4 cup chopped onion
6 slices bacon
1 1/2 teaspoons minced garlic
2 cups kale - washed, dried, and shredded
2 tablespoons chicken soup base
1 quart water
1/3 cup heavy whipping cream

Preheat oven to 300 degrees F (150 degrees C). Place sausage links onto a sheet pan and bake for 25 minutes, or until done. Cut links in half lengthwise, then cut at an angle into 1/2-inch slices. Place onions and bacon slices in a large saucepan and cook over medium heat until onions are almost clear. Remove bacon and crumble. Set aside. Add garlic to the onions and cook an additional 1 minute. Add chicken soup base, water, and potatoes, simmer 15 minutes. Add crumbled bacon, sausage, kale, and cream. Simmer 4 minutes and serve.